| Item ID | Starting Bid | Bids | Current Bid |
| --- | --- | --- | --- |
| 99080 | $8.00 | 11 | $24.00 |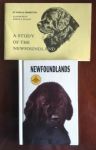 "A Study Of The Newfoundland" by Ronald Pemberton was published in 1998 and is now out of print. In its fifty-one pages you'll find information on temperament, conformation and other Newfoundland basics.
This book is filled with black and white illustrations and except for some wear on the cover it is in very good condition.
"Newfoundlands" by Kitty Drury and Bill Linn was a #1 best selling Newfoundland book. First publshed in 1995, it is filled with colour illustrations and photos and great information for Newf owners.
This is a hard covered book in great condition.
With thanks to Lynda McFadden.