| Item ID | Starting Bid | Bids | Current Bid |
| --- | --- | --- | --- |
| 94237 | $10.00 | 9 | $55.00 |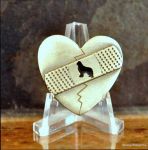 This beautifully designed and handcrafted pewter pin featuring a black Newf is approximately 1.25" by 1.25". Artist Cissy Sullivan explains how these pins came to be:
We have all had a situation in life where a friend, family member or an acquaintance are grieving the loss of a beloved pet and family member. Sometimes words just aren't enough to help console them or we might fall short of even having the words to share. I have always thought my words could possibly pass quickly and not help provide a lasting level of comfort and peace.
For me I have always wished that I could give something more than words and in some way put a Band-Aid on a broken heart. I am hoping with this new endeavor it could possibly do that. This small token will be with them far longer than words and hopefully will provide some comfort during the healing process.
By giving one of these mementos, I am hopeful it will not only provide a positive feeling to the recipient, but also create a good feeling that you, as the giver, have touched the person in a long lasting way.
Thank you for this kind donation, Cissy!